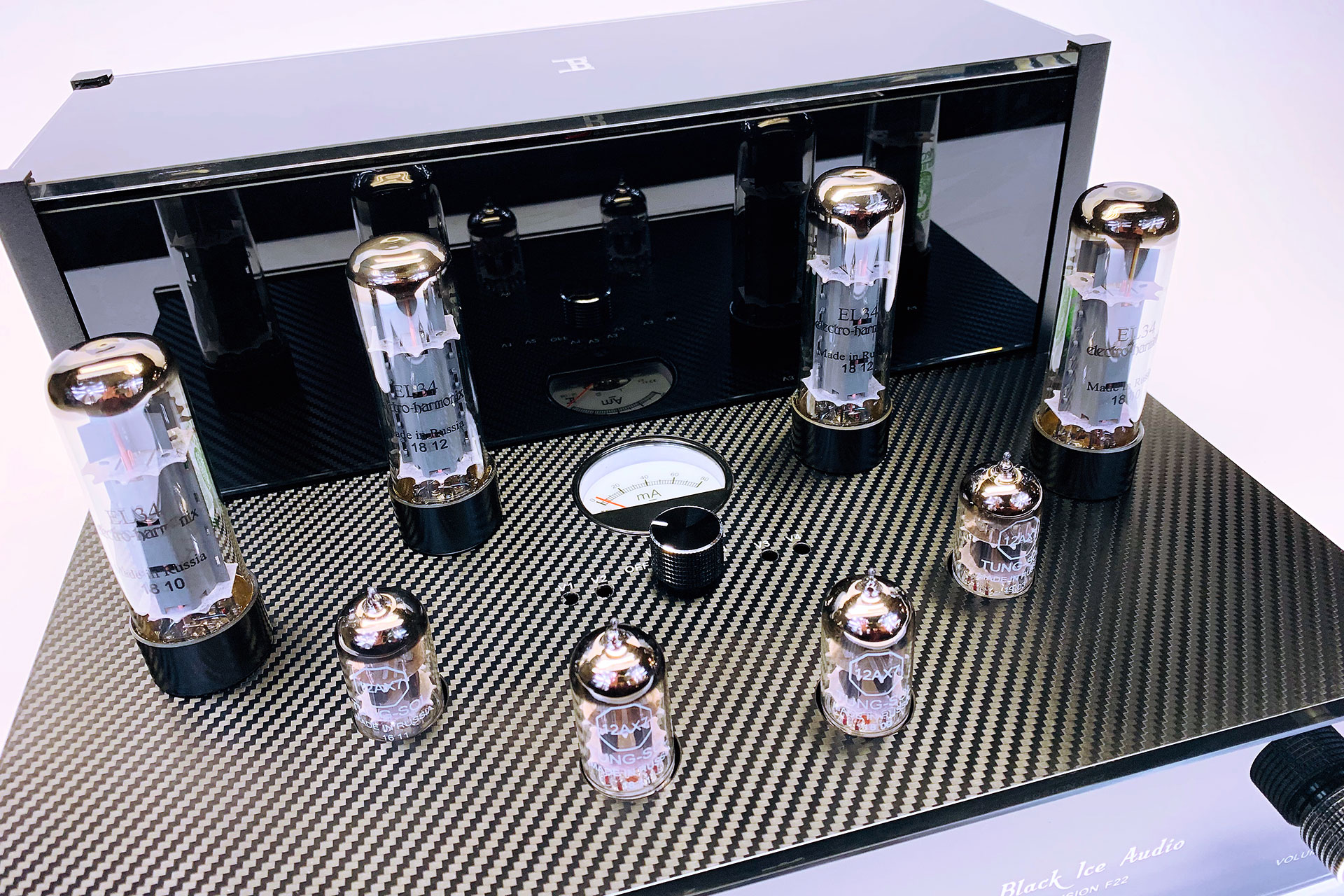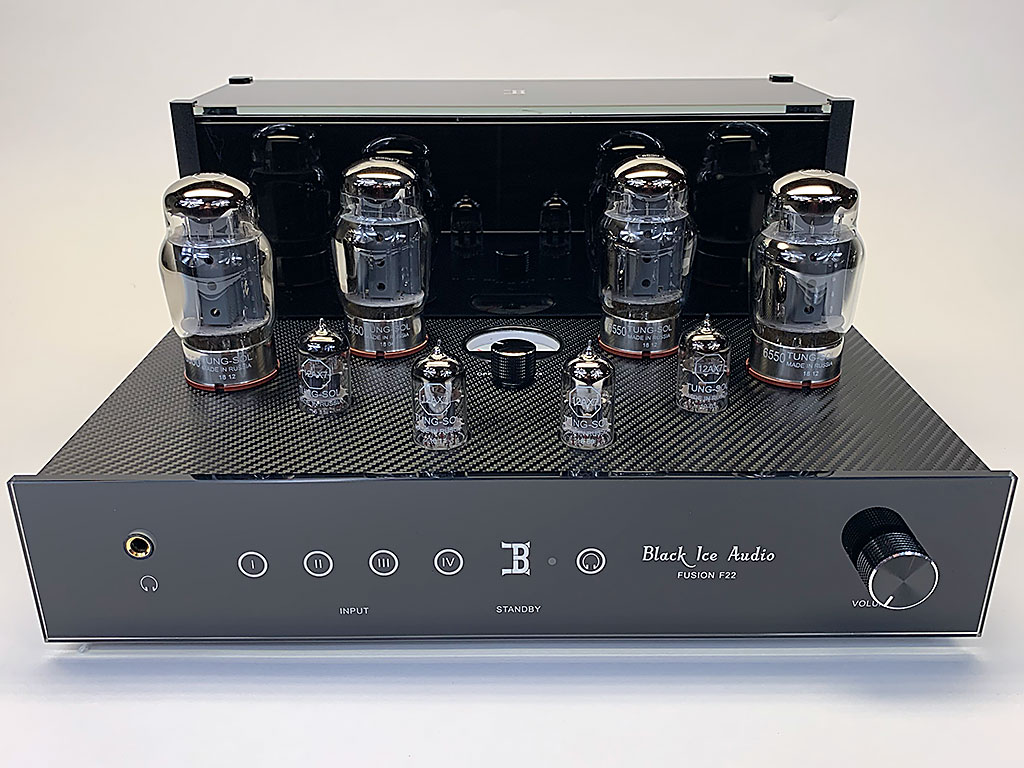 The new Black Ice Audio F22 is a state-of-the-art stereo tube integrated amplifier sporting a new breakthrough circuit design by Jim Fosgate – that includes touch sensors, LEDs, and a look that wants attention.
The dual chassis design is laced with carbon fiber and mirror-finished glass panels decked out with LED back lit touch sensors, that provide a rigid home for the one of the newest circuits to date.
The Odyssey Circuit, designed in 2015, is a dual phase V drive circuit. With El34 power tubes, it pumps out 50 watts of pure tube magic. Silky smooth and emotional, the days of the smoke filled, low light jazz clubs are making a come back.
Using the Exact Biasing Vu meter, changing over to the 6550/KT88 power tubes is a breeze and the F22 becomes 60 watts of dynamic force to rock any room.
When it's time for the neighbors and the kids to go to bed, the fun doesn't stop. Plug in your headphones and press the headphone button to move your music from your room to your own personal space.
Construction Details & Features
Fully Integrated Stereo Amplifier: Input 1 V driving 50 to 60 watts, maximum 75 watts output.
Multiple Inputs: Touch control selector switch
Features: Uses EL34 or 6550 tubes. Fixed and Subwoofer output. Remote control and touch sensor on/off switch. Tube based headphone output.
Custom Wound Audio Transformers with a core of German grain oriented silicon steel. The output transformers are based on the Hafler design.
Exact Bias System: Top panel bias testing terminal with bias adjustment controls and built in meter.
State of the Art Components: ALPS Blue audio potentiometer, gold plated RCA input jacks, Black Ice Audio coupling caps.
Low Feedback Design: Only 4.5 dB
Maximum Power Output:
75 W per channel at 8 ohms, 25Hz to 60KHz with 6550 Tubes
65 W per channel at 8 ohms, 28Hz to 72KHz with EL34 Tubes
Rated Output Power:
60 W per channel at 8 ohms, 25Hz to 60KHz with 6550 Tubes
50 W per channel at 8 ohms, 28Hz to 72KHz with EL34 Tubes
Frequency Response:
(at 1 watt into 8 ohms) 8Hz to 130KHz + 1dB
Bandwidth:
15Hz to 80KHz + 3dB; 0dB 60 W 1KHz
Distortion THD:
Less than 1% at 20 V output, 28Hz to 15KHz
Circuit Type:
Fully Balanced differential push pull
Input Impedance:
100Kohms
Input Sensitivity:
1V at 1KHz for 60/70 watt output
Output Impedance:
4 ohms and 8 ohms
Negative Feedback:
Less than 4.5 dB
Noise and Hum:
95dB below rated output
Tube Complement:
4 pcs. EL34 or 6550 power output; 4 pcs. 12AX7A/ECC83
Power Requirements:
110V-120 VAC 60Hz 6 watts-standby, 450 watts maximum (220 VAC 50Hz option)
F22 Integrated Amplifier
F22 Remote Control
4 Power Tubes: Choice of 6550's or EL34's
4 Pre-amp Tubes: 12AX7
Bias Tuning Wand
Textured Gloves
Power Cord
Dust Cover Bag
Accessory Bag with Manual, Glass cleaning cloth, Warranty Info
Circuit board layout
Only two circuit boards: Control board Signal/power supply board – integrated to lower labor cost to continue offering price to performance for the customer. One reason we are able to offer the prices we do. (Less connections for less chances of failure).
Tube biasing
We know how difficult and time consuming biasing tubes can be. So we incorporated Exact Biasing to the design to make it as easy as possible. The centralized back lit Vu Meter and the Biasing selector switch make checking the bias amperage in real time simple with a turn off the knob. Using the provided tuning wand and the back lit Vu Meter each tube can be biased exactly where you want it.
Touch sensors
We wanted to incorporate led back lit touch sensors to the design to make the front panel as sleek and smooth as possible and to have that seamless mirror finish. Having touch sensors the user interface is as modern as the current cell phones and appliances on the market today. We use the most up to date capacitance sensors to handle the extreme temperatures that tube amps generate yet allowing the user to use the slightest touch to command.
Chassis
The Dual chassis is an unique design. Each chassis is 3mm thick Stable and sturdy construction Aluminum backed glass on transformer cover. Face plate is steel backed glass.
Remote
Multifunction IR steel remote
Headphone output
Tapped off the output transformers / no solid state devices. We use resistors to lower the voltage to the output
Output transformers
Hafler design
Power transformer
Iron core / Premium copper wire.