The F360 takes the guess work out of dialing in the system and the room.
What is the ideal preamplifier – control, control, control. Welcome to the F360, a preamplifier which can contour sound to your preference.
Let's start with the bass equalizer circuit designed to increase low bass impact up to 15dB without bass boom. Conversely, in the event of boomy bass, the bass equalizer can reduce the boom up to 15 dB. In addition, there is a high frequency equalizer circuit that can increase or decrease high frequency up to 11 dB. Of course you can bypass the low/high equalizers and just treat yourself to unfiltered sound with zero negative feedback.
Getting to business, the Dimension Pro circuit will add a greater sense of spatial range of width that is recongized beyond the walls of your room. The F360 is a stereo preamp that has an added bonus feature.
The 360 Space Matrix circuit adds the inclusion of rear speakers for soundstage depth reinforcement.  Let the concert begin.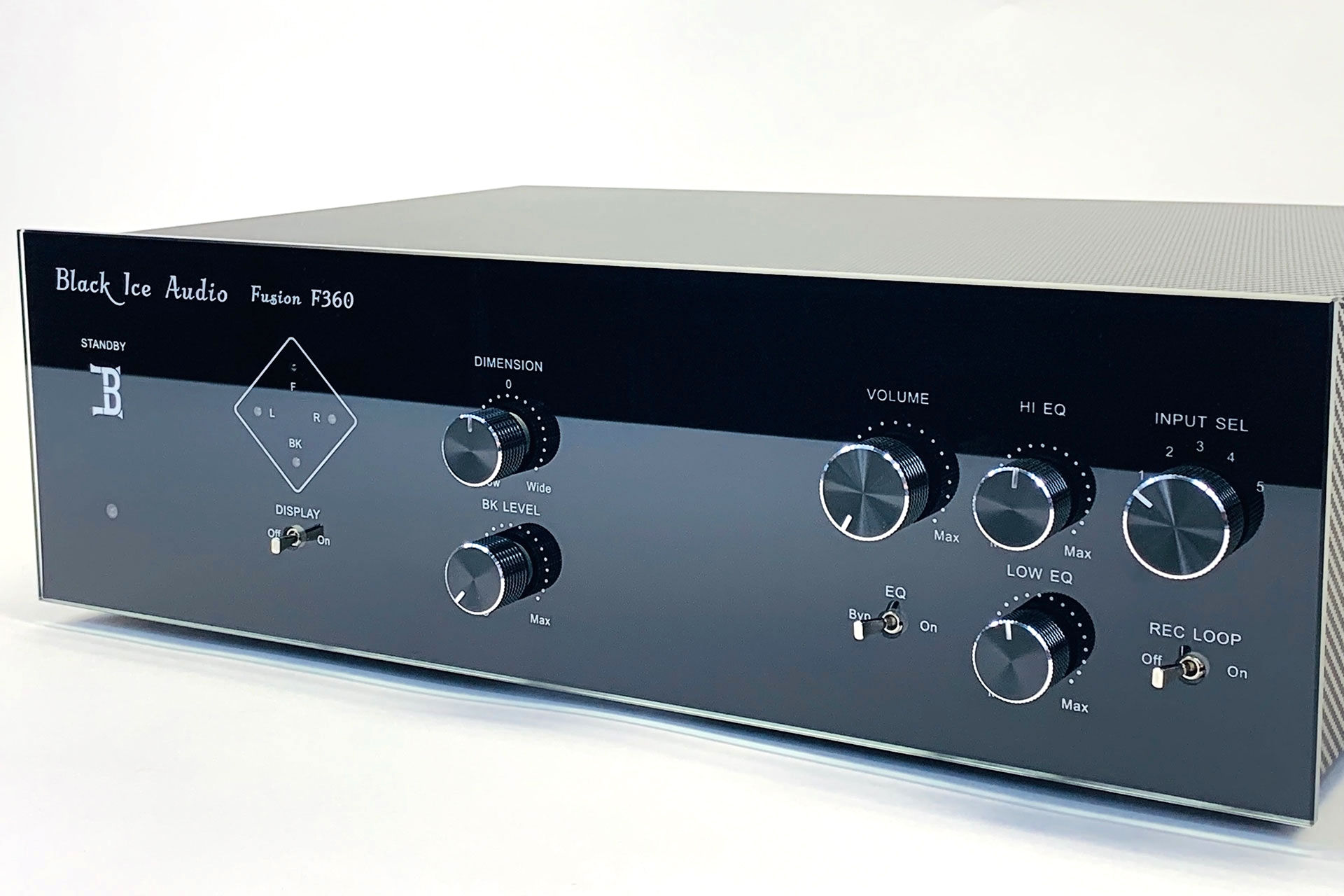 Construction Details & Features
High performance Vacuum Tube Preamplifier: with a flexible electronic approach to solving multiple issues of buffering the signal/volt, controlling high and low frequencies, focusing or expanding your 3 dimensional image, and rear outputs for the option of creating an analog surround system.
Multiple Inputs: 6 XLR and RCA inputs, 2 XLR and RCA outputs.
Features: 6SN7 Vacuum Tube
Dimension control: adds a greater sense of depth, space and helps pull the soundstage outside your head
Logic display: is gives a visual perspective of the phasing in your system and works in relation to the settings of the dimension control circuit
Equalizer circuits: can increase/decrease bass up to 15 dB and can increase/decrease high frequency up to 11 dB
Zero Feedback Design
Rear channel outputs
State of the Art Components: Gold plated RCA input jacks
R Core Transformer 
Front Glass panel with a mixture of touch sensor and knob controls
Carbon Wrapped Chassis
Max output voltage:13V RMS front channels, 8.5V RMS back and sub channelsFrequency Response:front channels: + 0 -3DB 5HZ to 200KHZ (100K load), +0 -3DB 7HZ to 200KHZ (20K load)Frequency Response:of equalized back ambiance channels: +0 -3DB from 110HZ to 6KHZBandwidth:20Hz to 100kHz + 1dBDistortion THD:.45% @1VRMS output, .07% @ 2VRMS output, .09% @ 3VRMS outputNoise floor front channels:-81DB unweighted, -92DB A weightedNoise floor back and sub out channels:-70DB unweighted, -90DB A weightedOutput Impedance:105 ohmsSNR Front Channel:over 100DB @ 3VRMS out A weightedSNR Back channel:over 100DB @ 3VRMS out A weightedDimension control range:-7 DB clockwise and counter clockwiseDirectional display:range down to below -70DB, L = Left input, R = Right input, F = L+R (mono) input, BK = L-R (out of phase) inputHi EQ range:+ – 11DB @ 20KHZLO EQ range:+ – 15DB @ 100HZTube Complement:1 pcs. 6SN7Power Requirements:110V-120 VAC 60Hz or 220-240 VAC 50HzDimensions:17 inches wide by 11 inches deep by 5.5 inches highWeight:22 pounds (9.98Kg) net, approximately 25 pounds (11.34 Kg) packagedWarranty:2 years limited parts and labor. 1 year on Black Ice Audio tubesFuse:110 – 120 VAC, 1 Amp slo Blo; 200 – 240 VAC, .5 Amp slo Blo, Size 5mm X 20mm
F360 Preamplifier
F360 Remote Control
Textured Gloves
Power Cord
Dust Cover Bag
Accessory Bag with Manual, Glass cleaning cloth, Warranty Info